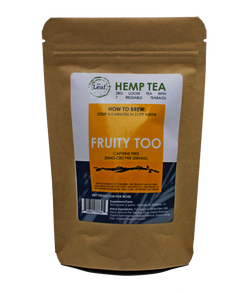 The Leaf NY
Organic Fruity Too Hemp Tea 28g
Fragrant, sweet lemony aroma. This infusion is a beautiful pinkish purple. Fruity, lemony, vegetal-grassy flavor with a hint of peppermint.
Contains: 28g loose tea with reusable teabags.
Ingredients: Organic Rosehips, Organic Lemongrass, Organic Hibiscus, Organic Orange Peel, Organic Hemp, Organic Peppermint Leaf.
Allergen Information: Hibiscus is processed in a facility that also processes peanuts.