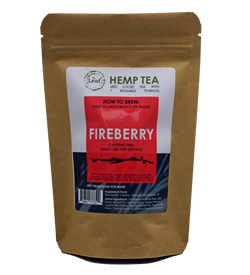 The Leaf NY
Organic Fire Berry Hemp Tea 28g
This spicy herbal tea blends organic hibiscus and cranberries with a little bit of heat from organic chilies and cayenne.
Organic Hibiscus Flowers are hand picked and sun dried, yielding natural red-orange color and fruity flavor. We cut and sift them for easy use in many applications. And they're still as beautiful as they are whole. Hibiscus flowers are popular as an herbal tea, especially in Caribbean and Latin American countries. They are often combined with other herbs or fruit juices and they impart a cheery red color and tart flavor.
Contains: 28g loose tea with reusable teabags.
Ingredients: Organic hibiscus, organic red chilies, organic cranberries, organic hemp, organic lemon oil, organic cayenne, citric acid.
Allergen Information: Hibiscus is processed in a facility that also processes peanuts.